Second Logo for the Flower Mountain Family of Companies
We recently completed a new logo for Flower Mountain Weddings & Receptions, a Smoky Mountain wedding venue located in Sevierville, Tennessee. Using the same woodcut illustration style that we used to create Flower Mountain, we recently completed the new logo for its sister venue, Abiding Grace Chapel on the Creek.
Abiding Grace is located in Gatlinburg, TN and provides an all-in-one quaint wedding experience that provides everything from ordained ministers to professional photography services. It is a faith-based wedding venue that has performed over 5,000 wedding ceremonies and special events. When the owner described the venue she said it was similar to a Vegas style wedding, but was more focused on faith, and it was out in the Country.
Below you can see the new logo which features a custom illustration of the Abiding Grace Chapel accompanied by clematis flowers, which can be seen growing on the grounds of the chapel. Underneath the new logo we have both the Flower Mountain and the Abiding Grace logos to show how they work together and start to create the new overall image.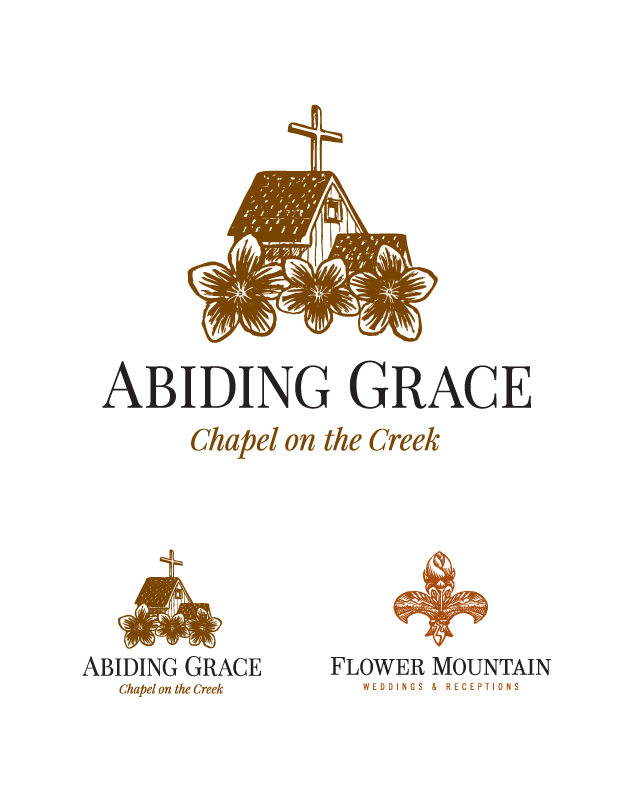 Learn more about our logo design services and don't forget to check out our logo design portfolio.