LOGO DESIGN PROCESS
Take a sneak peek behind the curtains to see how our logo wizards design some of our eye-catching, award winning logos. Here is our logo design process:

Information Gathering
It all starts with a conversation about how you want your brand to look and feel. We collect data about what you want your aesthetic to be, such as colors, typefaces and the overall feel. We also request that our client provide us with some sample logos that they really love the look and feel of, not necessarily brands they like, but more the style of a logo. During this stage we also look at, and study, their target market and competition.

Concept Brainstorming
We find that the strongest logos, and the most memorable ones, always have solid concepts behind them. Here at Visual Lure, we pride ourselves at designing heavily concept-driven solutions. We do this through creativity and exploration. There is no other way to do it. We always start this stage by writing down words and then more words. We then figure out solutions to use those words and symbols in clever ways.

Sketching & Conceptualizing
Now that we have some direction and ideas of a concept, we pick up a pencil, and we don't put it down until we have a handful of solid options drawn on paper. We also take conceptualizing to the next level as in this stage we sometimes discover pleasant surprises that can only happen from sketching and exploring. Most of the time, our best work comes from this stage. At the end of this phase, we research multiple logo databases and resources to make sure the concepts we've come up with haven't already been done before.
Digital Conversion & Alterations
Now that we have a handful of solid concepts on paper, we scan them into the computer and we work on converting them into digital artwork. Almost all of our logos are vector-based, as opposed to pixel-based, because pixel-based logos cannot be blown up in size without becoming pixelated. They also tend to be less usable when it comes to applications like embroidery, laser etching and specialty printing. Once the logos are converted into digital art, we present them to the client. Much of the time, our clients then select one of the options for their final logo. We also provide up to three rounds of revisions to a chosen logo, if necessary.

Client Approval
Once a final logo has been chosen, we present that logo in both vertical and horizontal formats (if applicable), and in color and black and white. We offer unlimited color options once the final logo is selected, and we include two color options in the final delivery. Once the client has approved all the formats we deliver them all electronically.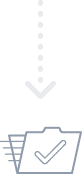 Delivery of Final Formats
Once the final logos have been approved for final delivery, we send them electronically along with an email describing the formats and the best time to use which one for the best reproduction. Formats include:
.ai (Adobe Illustrator) – These are vector files for professional printing, signage and professional page layout software. You will not be able to open these files unless you have a vector-based program like Adobe Illustrator or Corel Draw. They are the sharpest formats and should be used in all professional printing. It is also the file sign companies will want. These are the only formats that can be enlarged without ever becoming fuzzy or pixelated.
.svg – Scalable Vector Graphics is an XML-based vector image format for web graphics with support for interactivity and animation. The SVG specification is an open standard developed by the World Wide Web Consortium (W3C).
.pdf – PDF file with the vector logo embedded into it. It allows users to open the file without a vector-based program.
.jpg – Universal file format that you can open, view, and use in almost any application and computer.
.png – Pixel based logo that has a transparent background.
Once final payment is received all the rights to the logo are transferred to the client. Since all the logos we create are completely original, your logos are automatically trademarked "™". If you would like to get your logo's trademark registered "®", you would have to do that through the United States Patent and Trademark Office (USPTO). You can do it yourself but we have found it much easier, and well worth the extra cost, to have an attorney help you.
---