10 Year Anniversary Logo Design for St. Louis Parks & Rec. Department
Visual Lure was recently contracted by the City of Des Peres' Department of Parks & Recreation to design a new 10 year anniversary logo for The Lodge Des Peres.  The Lodge is an indoor and outdoor aquatic facility with a fitness center, gymnasium and meeting rooms.
The Lodge provided us with the Parks & Rec logo, and The Lodge logo as seen below. During our discovery stage, we found the Des Peres crest, also show below to the right of the other two logos.  The Department requested that we include some of the elements in those logos into a couple of our proposed designs.  Below, you can see how we incorporated some of those components into our initial options.  In the circular logo below, we used the Des Peres crest shape for the anniversary shield and in the bottom right logo we used the tree from the Parks & Rec logo along with the Lodge illustration.
Check back soon to see which logo they select, and in the meantime, check out their website at www.TheLodgeDesPeres.com.
UPDATE:  The Lodge Des Peres selected the bottom left logo design option show below.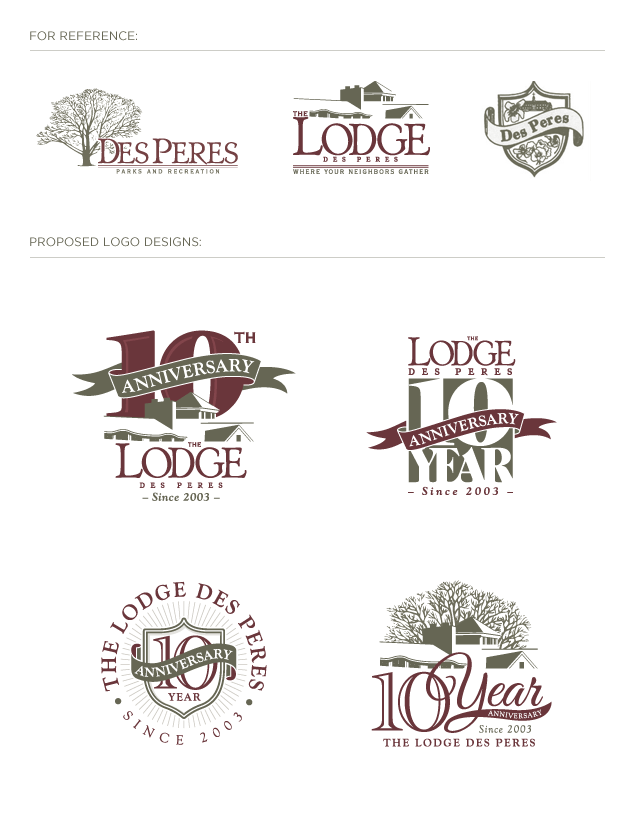 Learn more about our logo design services and don't forget to check out our logo design portfolio.