Visual Lure Announced as a 2021 Local Excellence Award Winner by UpCity!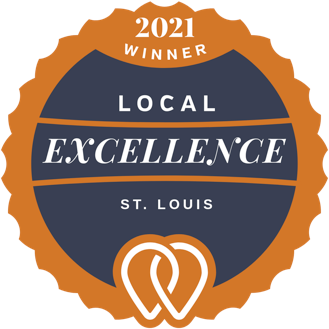 For more than a decade, UpCity's mission has been—and continues to be—to help businesses find B2B service providers they can trust. The UpCity Recommendability Rating was developed to determine a service provider's credibility and recommendability, giving UpCity the confidence to recommend them to the more than 1.5 million businesses that visit their site.
Each year, UpCity analyzes and scores more than 70,000 service providers based on their UpCity Recommendability Rating and acknowledges the top national and local providers with an UpCity Excellence Award. The results are in, and we won!
We are ecstatic to announce that the Visual Lure team has been recognized as one of the top B2B service providers of 2021 in the St. Louis area by UpCity!
Founded in 2001, Visual Lure is a full-service design firm with a strong focus on branding and marketing. We pride ourselves on our personalized service and our knack for elevating the small details that make each of our clients unique. Our logo design work is consistently being published in the most prestigious logo books, we have won numerous awards for our web design and development work, and our graphic design services are second to none. Thank you to the UpCity team and our Visual Lure customers over the years for this tremendous award and honor.
---
Heidi Sullivan, SVP of Product and Marketing at UpCity, had this to say about Visual Lure:
"Visual Lure's personalized service, attention to detail, and commitment to generating real results make them stand out from the crowd and truly resonate with their audiences. Congratulations to Visual Lure on receiving the UpCity Local Excellence Award."
– Heidi Sullivan
SVP of Product & Marketing
---
This recognition has been driven in large part by our 5-star review rating on UpCity.