WEB DESIGN PROCESS
Visual Lure approaches every website differently, as we feel every site should be unique and customized to its particular needs and goals. With that being said, below is our basic web design process broken down into our core design and development phases.

Establishing Goals
The first thing we do is establish the goals of the website, and define the target audience. Some of the pertinent questions at this stage are: What are the main objectives of the site? To inform and educate, sell a product or service, fundraising, lead generation and capture? What is your competition doing? What makes you, your products or your services different or better – and what is the best way to communicate this?
How do we meet those goals?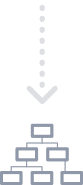 Sitemap Development & Planning
Google, and other search engines, LOVE a well organized website. And so does EVERYONE else. It is a critical component in delivering a good user-experience (UX).
At this stage, we determine all the pages you'll have on your website. We then organize them in the best, most logical way possible. A question we always ask at this stage is "where do we want to guide users, and how do we get them there the easiest way possible?" A great rule of thumb is that a user should be able to access any page of a site with only a couple clicks.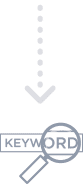 Keyword Research & Planning
Not only does Visual Lure specialize in custom web design and development, but we are also search engine optimization (SEO) experts. Having a website that no one can find is useless. How do you plan on driving traffic to your site? By using proper white hat techniques, SEO can do just that.
At this stage, we first determine what your potential users or customers are searching for. We then do keyword research to build a list of your main targeted search terms. From there we determine which pages will be optimized for what terms. Additional content may need to be created and the sitemap adjusted accordingly.

Wireframes
For more complex websites, we design wireframes for the intricate parts of the site. Especially sites with complex forms and back-end functionality. Wireframes are simple line drawings of the layout of a web page. The benefit of this is being able to visually see the page structure before building out the actually site. Making changes at this stage is simpler and less time consuming. For simple informational websites, we sometimes skip this stage.

Content (Copy/Text & Imagery) Creation
Sometimes our clients provide us with all the content. Other times, we help develop it for them.
CLIENT PROVIDED CONTENT

If the client is providing all the content, we require them to provide a Word (or basic text) file for every page of the website. Each file should contain all the copy for that page, along with any functionality notes, such as: Does the page do anything special?, Is there a call to action or submission form?, etc.
VISUAL LURE DEVELOPED CONTENT

If Visual Lure is developing all the content, we setup a meeting with our head web designer/strategist and our copywriter. We go over the entire site, formulate a sitemap and conduct interviews in order to develop the messaging and content. Copy is provided for review and massaged if necessary.
IMAGERY
In addition to the copy, is there imagery on each page? If so, we require our client provide those, and name them accordingly, such as: "about page images 1", "about page Image 2" and so on. If stock imagery is being used, detailed notes about what type of images you'd like to use is required. A number of stock photos and custom illustrations are included in our web design packages, and our professional illustrators and photography partners are also available.

Establish Aesthetic
Now to the fun stage. What will the site look like? Do you already have an existing brand aesthetic? If not, we find it helpful that our clients spend some time to find other websites that they like the look and feel of. We won't copy the websites you like, they simply provide us with a better idea of the aesthetic you're drawn to. Once we have a good sense of direction, we come up with original designs tailored just for you.
Your budget will determine the number of initial design options you will get to choose from. Typically we provide two homepage design options. Based on the chosen design, we then design all the other unique template pages and mobile comps. At this stage a couple rounds of revisions are included.

Design Approval, Beta Site Staging & Content Population
Once all the designs are approved, we convert them into a fully functioning website that sits on a staging server, hidden from search engines. We then populate the site with all your content and provide you access for review. Any revision and tweaks are made until the site is ready for launch.
Right before final launch, we test all the forms and functionality on all major browsers and from desktop, tablet and mobile devices (both in landscape and portrait orientation) to make sure everything looks and functions properly.

301 Redirects
If the website is a redesign, we make sure all the old pages redirect to the proper new ones. If this isn't done properly, visitors can try and visit old pages that no longer exist, and get "page not found" errors. Not only is this a usability/UX issue, but your site can plummet from search results as 301's do pass on existing ranking power. This stage is not necessary for completely new websites.

Website Launch
5, 4, 3, 2, 1, blast off! Your site is live. Once this happen we go through the entire site, every page, to make sure nothing went wrong from the beta site to going live. Once again we test all the forms and functionality on all major browsers and from all different devices.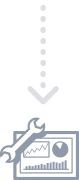 Google Analytics & Search Console Setup
Directly after launch, we set the website up with Google Analytics and Google's Search Console (previously Webmaster Tools). These free services help us, and you, monitor and generate reports on the website's traffic and provide diagnostics on the health of your site. During this stage we also submit an XML site map to Google to help improve potential search rankings.

Monitoring, Maintenance & Ongoing SEO
We do offer annual maintenance and ongoing SEO plans post-launch. Even though website maintenance training is included with all our sites, many of our clients prefer that we do all the ongoing SEO, monitoring and maintenance for them. These plans are customizable and can includes:
We make sure the website is running the latest version of the content management system or platform being utilized, and we keep all plugins up to date. These are extremely important for the security of a site.
We monitor the security of the site, and if hacked, we run diagnostics and clean everything up.
We handle all hosting upgrades.
We make any improvements or repairs based on the data collected from Google Analytics and Google Search Console.
We provide ongoing SEO services to ensure long-term search engine ranking results.
---
---